PRESIDENT, SEIU HEALTHCARE
2020, a year that nobody could have ever predicted, highlighted to the government and the public what we've been telling them for years: all healthcare workers are truly essential.
The collective effort of one group of people is giving families hope for a brighter future – that's you, our healthcare workers.
Your dedication to service has been a silver lining during the darkest public health crisis of our lifetime.
Mere words of gratitude can never acknowledge the debt you're owed for the sacrifices you've made. That's why our union has been fighting for results that deliver the safety and security you deserve as a healthcare worker.
In the spring, SEIU Healthcare successfully worked with the federal government to fund pandemic pay for essential workers. Shamefully, the provincial government bungled the roll-out and wrongly excluded critical members of the health team.
As the pandemic raged, our union fought hard for better access to the personal protective equipment you desperately need. We sued the province to remove barriers to N95 masks during outbreak—and we won.
SEIU Healthcare is standing shoulder to shoulder with healthcare workers whose employers have violated their human rights on the basis of their gender and race. That's why our union is supporting their legal complaint to the Human Rights Tribunal of Ontario because we must reform a healthcare system that discriminates against women and workers of colour. When we win this case, we can better improve wages and working conditions for all people serving in the care economy.
As the year starts with cases of COVID-19 at its peak, it's never been more important that we keep fighting. As a healthcare-only union with over 70 years of experience, we know there is nothing more important than your protection during these unprecedented times. You can count on us to keep fighting for faster access to vaccination and expanded paid sick days for all.
SEIU Healthcare members spoke loud and clear in 2020: "If you want to call us heroes, treat us like heroes." So, for 2021 we're turning that message into a mantra:
Respect us.
Protect us.
Pay us.
Thank you for all you do to support the delivery of quality health services and for all you do as a source of hope and inspiration for all families.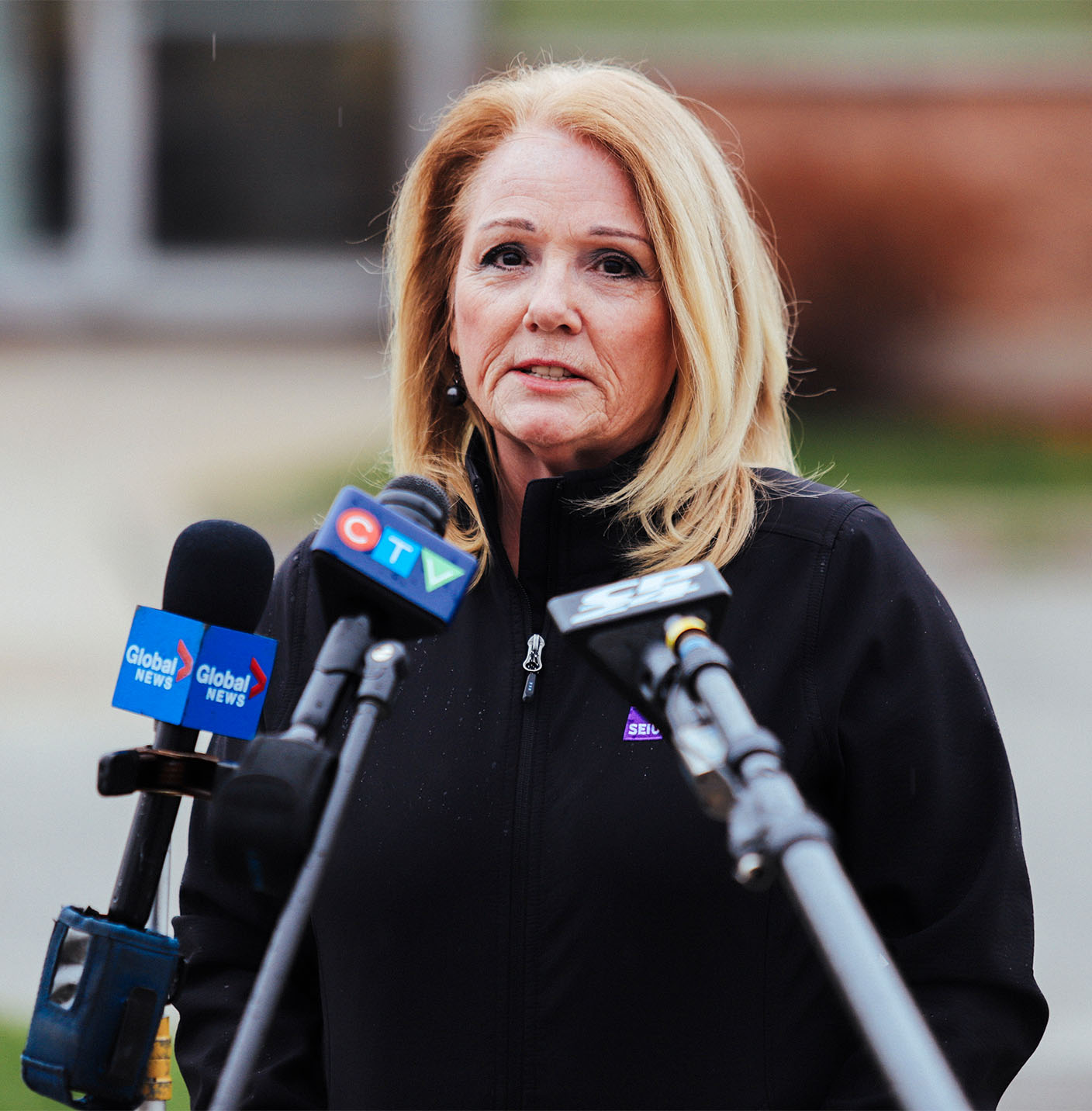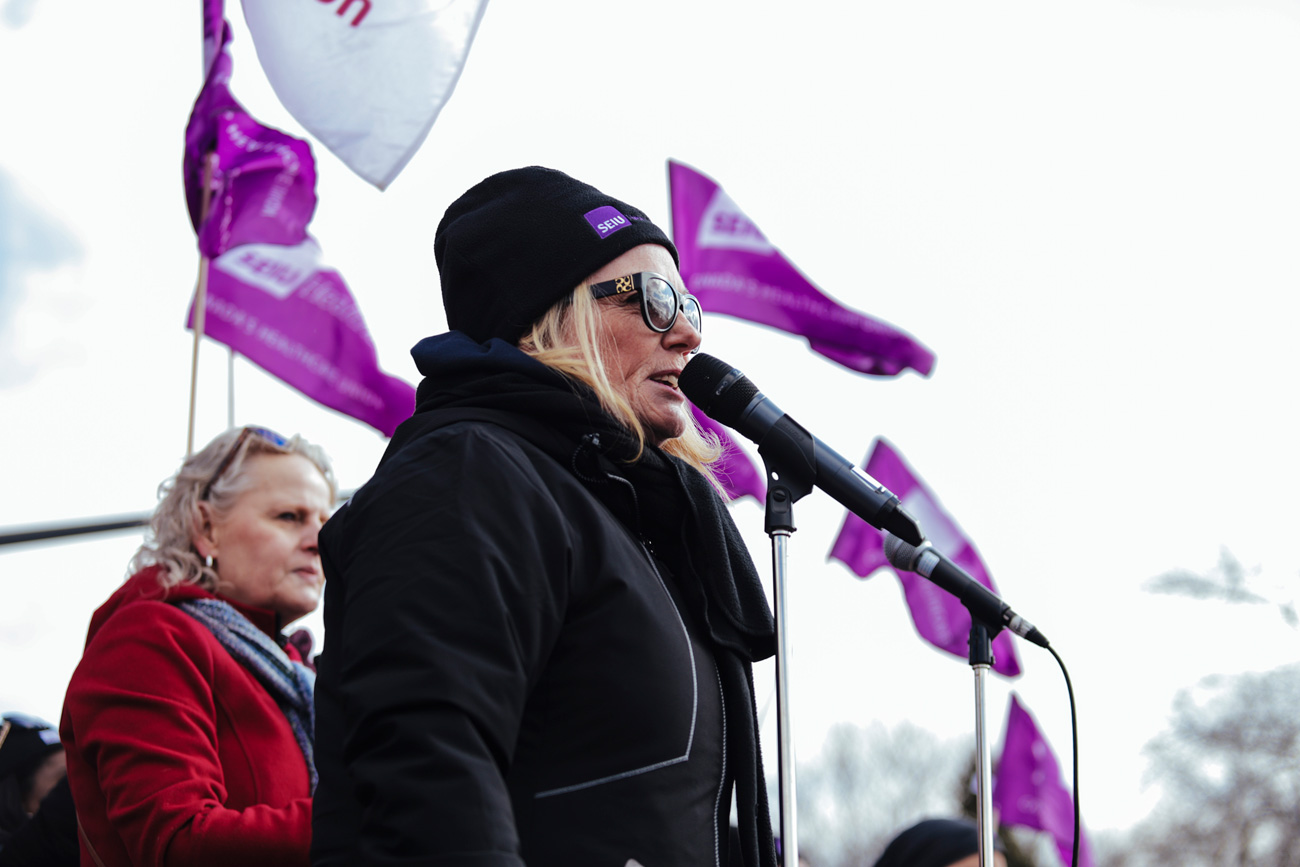 SECRETARY-TREASURER, SEIU HEALTHCARE
Being part of a union that has your back has never been more important than it is in this moment. Without notice, we saw the lives of healthcare workers change forever and we all needed to act quickly to adapt to the new normal.
Unfortunately, the pandemic affected many of you financially due to being limited to work at just one workplace or being forced off work due to illness.
To help support you in these times of need, we launched our Financial Hardship Program, which offered a small token of financial assistance to those who suffered a loss in wages during the pandemic. We also partnered with Airbnb to give hundreds of our members who feared exposing their family to COVID-19 a place to stay for free.
We expanded our WSIB support to ensure those who were forced off work due to COVID-19 or a possible exposure were financially compensated. Each year, we win over $2 million in WSIB claims for our members and this year will be no different.
In 2021, as we continue to adapt to our new reality, we are investing in making it easier for you to connect with your union. In January 2021, we will be expanding our Member Service Centre to add live chat and text message support, so that you have even more ways to get your questions and concerns addressed quickly.
Then in the spring, we will be launching a brand-new SEIU Healthcare mobile app that will put all the information you need, including your collective agreement, at your fingertips.
As the pandemic and our lives continue to change and evolve, we will continue to be innovative to ensure we are supporting your needs.
Thank you for everything you have done this year and will continue to do in 2021 and beyond.
Sincerely,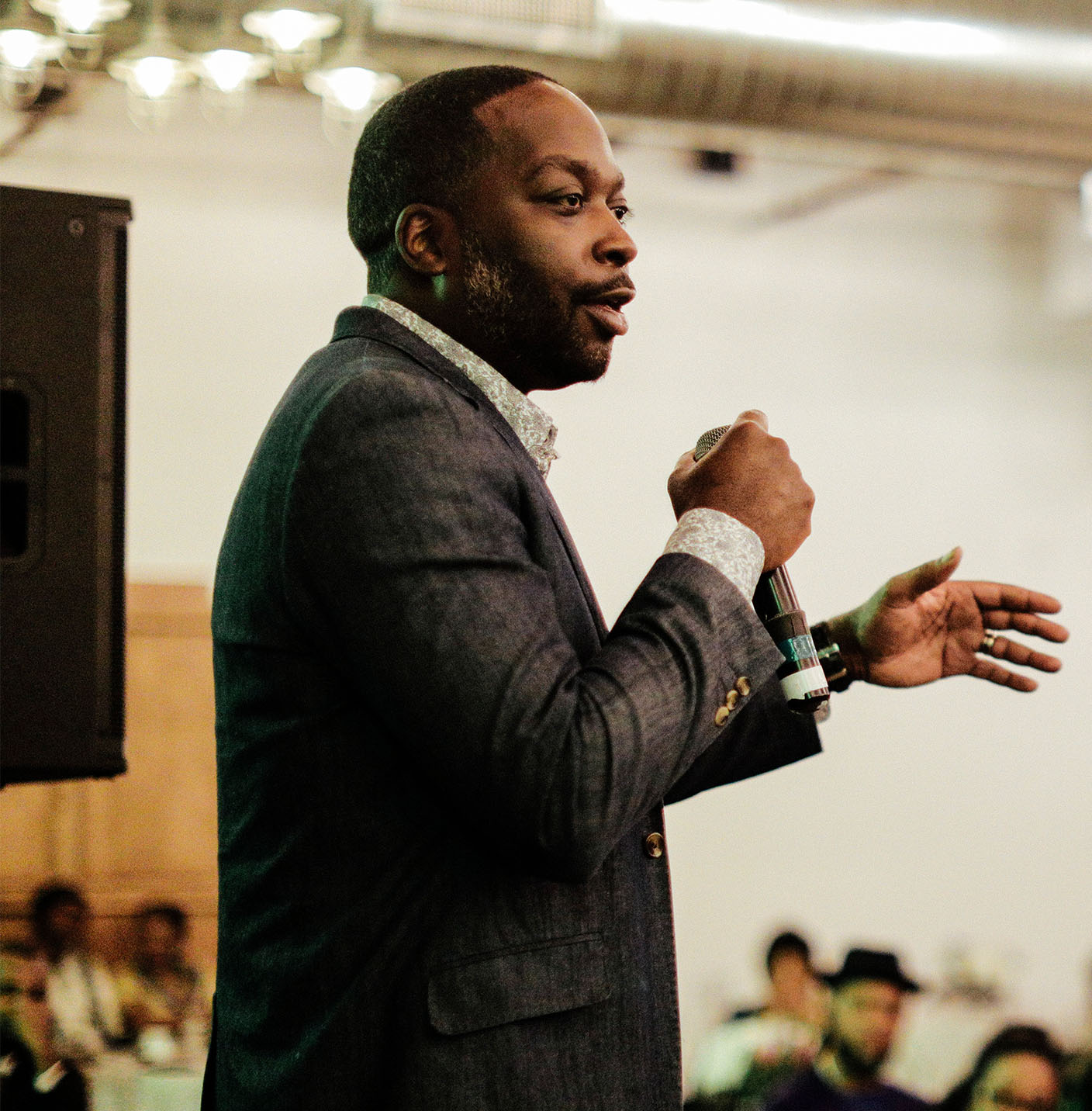 EXECUTIVE VICE-PRESIDENT, SEIU HEALTHCARE
Practising solidarity and coming together was difficult for all of us this year. Lockdowns, isolation, and social distancing all quickly became part of our vocabularies, and the events and gatherings we were so used to and enjoyed were no longer allowed. But as all healthcare workers always do, we quickly adapted to our new surroundings.
Our general membership meetings and celebration events became virtual through Facebook Live, Zoom, and Telephone Town Halls, which allowed members across the province to come together like never before. We were no longer limited by travel time or the size of a room.
To assist you when you needed it most, we also expanded our Member Service Centre to include new supports, including mental health, WSIB, professional practice, and help with financial and government applications.
While thousands of members look forward to our Leadership Academy trainings and events each year, we refused to let the pandemic affect our member education program, training over 1000 new stewards virtually and launching a brand-new e-learning platform available to all members and their families.
In 2021, we will continue to find new ways to connect, with hopes of being able to get back to in-person gatherings sooner rather than later. With that said, 2020 has shown us new ways to come together and we will take these lessons and continue to expand on them in the days, months, and years to come.
Thank you to every one of you for the important role you've played this year
Sincerely,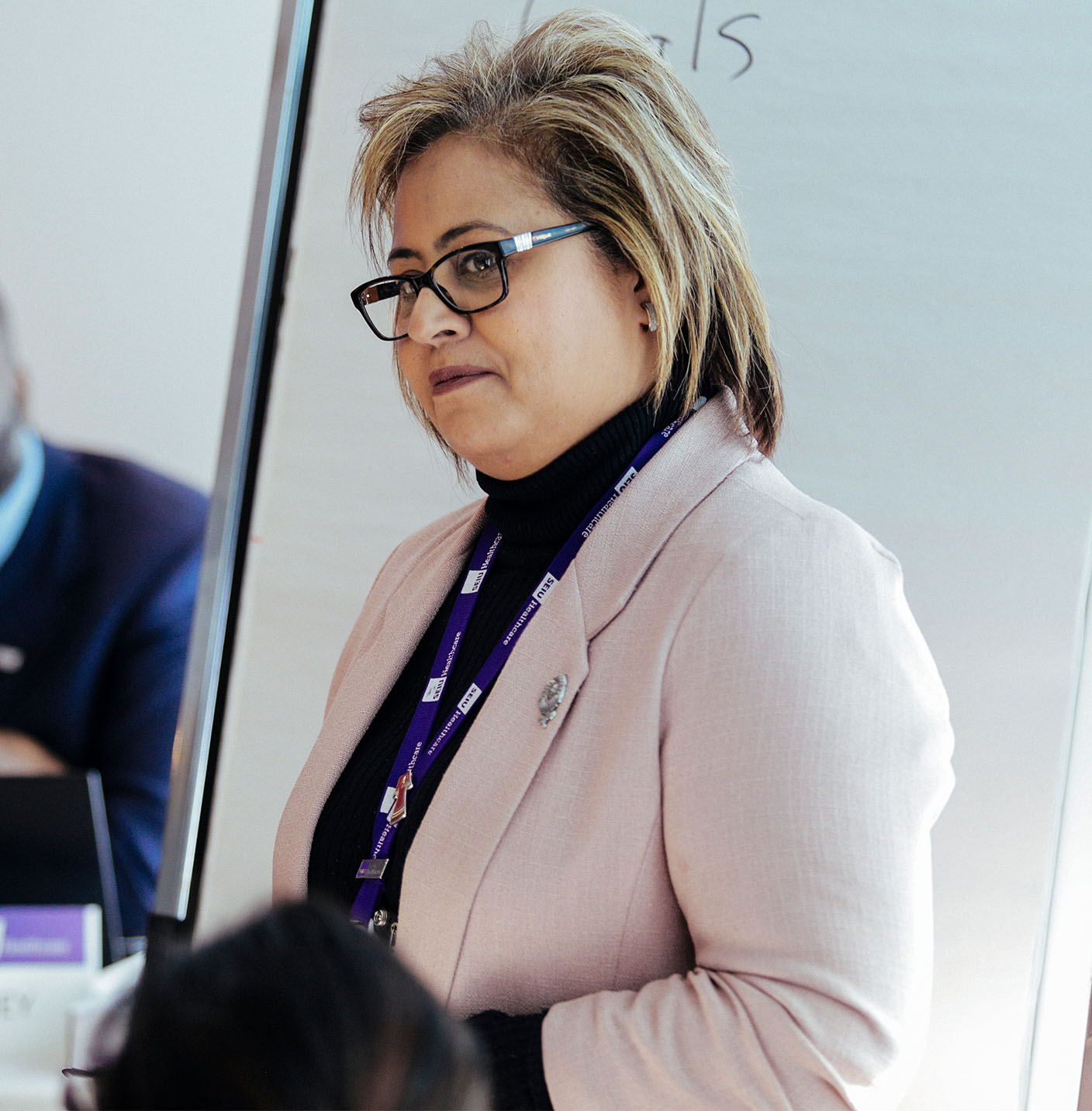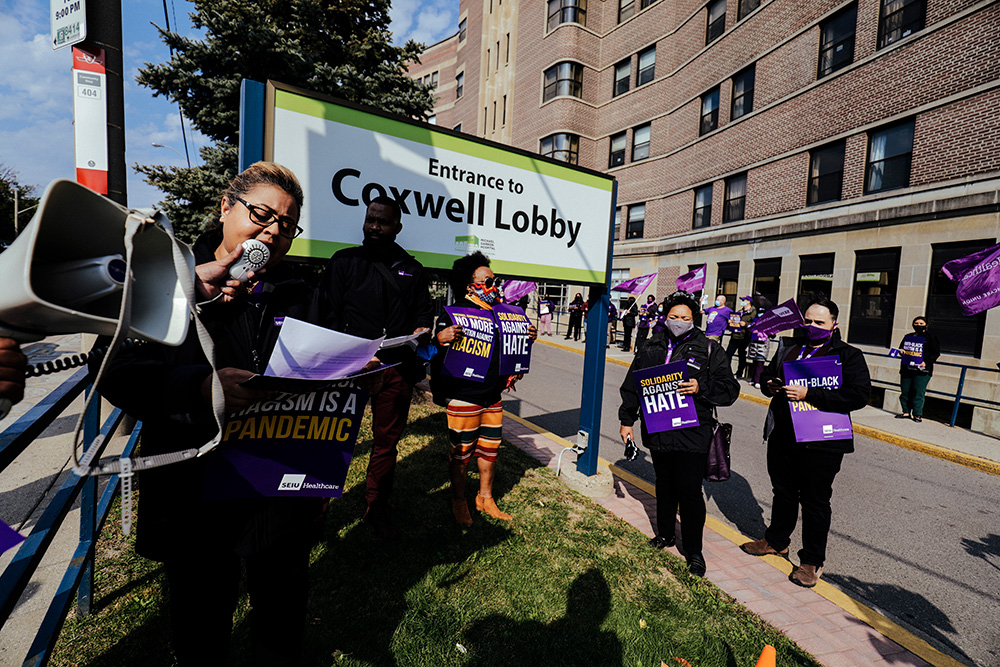 NURSING DIVISION PRESIDENT, SEIU HEALTHCARE
This year we all faced many hardships. On top of an unprecedented global pandemic, the world witnessed countless acts of racial injustices, destructive natural disasters, an uncertain economy, and calamities in political affairs. That is why this year it is so essential for us to continue to be there for one another.
Whether it was in our vehicles across the province, or staying six feet apart, SEIU Healthcare organized multiple caravan rallies to demand PPE, pandemic pay for all, and violence-free workplaces. Our call of 2020 was Respect Us! Protect Us! Pay Us! We stood up when our teams were experiencing racial discrimination in their facilities. We amplified the voice of nurses to your employer and the media to help them understand your frustration and realities.
While advocating for our SEIU Healthcare nurses, your Nursing Division was dedicated to spreading the good news and keeping the morale high for our members. This year, we released our brand-new nursing magazine Scrubs and Scopes, where we featured stories of your fellow nurses and shared insights in the nursing world. We also launched our online webinar and videos to overcome the barriers presented by COVID-19.
2020 was a special year because it marks the 200th anniversary of Florence Nightingale's birthday and was declared the Year of the Nurse. Although we faced many obstacles, I was incredibly proud of all SEIU nurses and the teams you lead.
Looking back, 2020 has taught us that we must continue to stand together, no matter what the circumstances. Despite what our classifications are or what is happening in the world around us, as unionists of SEIU Healthcare, we must continue to be there for one another, for as long as we do that, there is no challenge we cannot overcome.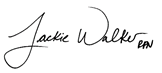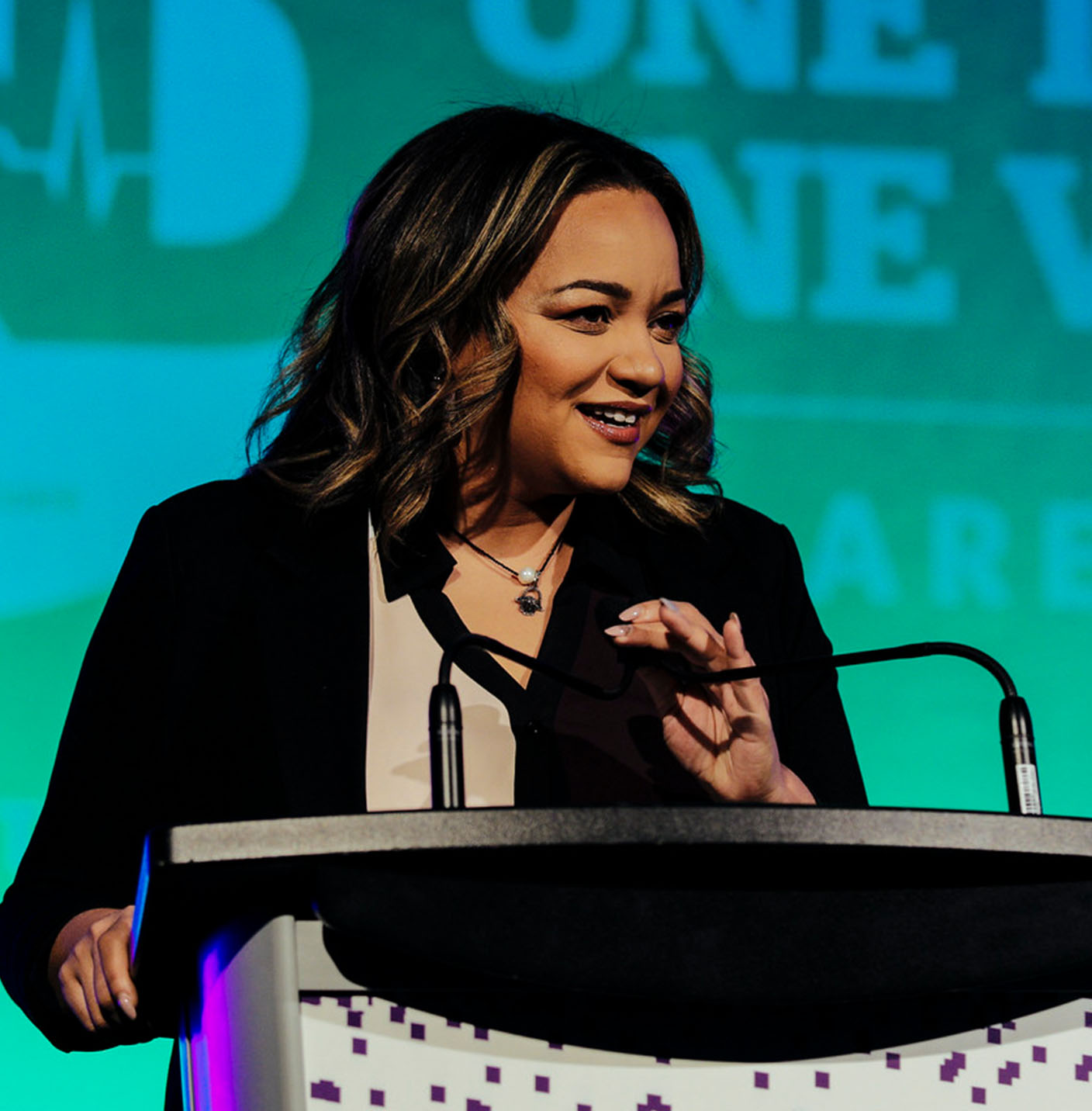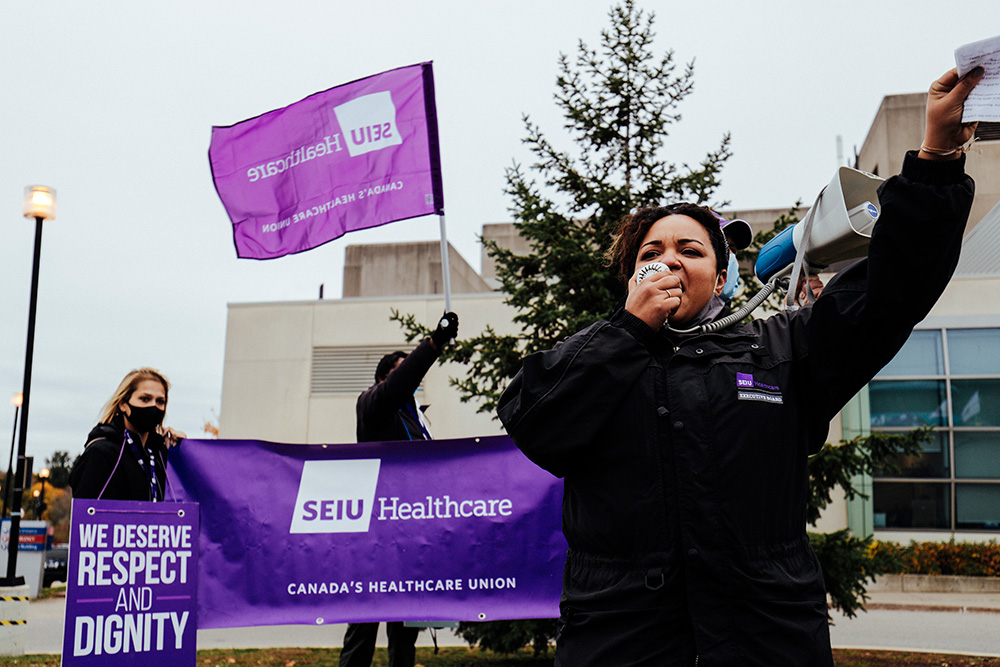 President
Secretary-Treasurer
Executive Vice-President
Nursing Division President
President
Secretary-Treasurer
Executive Vice-President
Nursing Division President
Three Sector seats with one member from:
Home Care and Community Care
Hospitals
Long-Term Care
Three sector seats with one member from:
Home Care and Community Care
Hospitals
Long-Term Care
Seven Community Representation seats with one member from:
Aboriginal and Indigenous Peoples
LGBTQ2+
Persons with Disability
Retirees
Women
Workers of Colour
Young Workers
Seven Community Representation seats with one member from:
Aboriginal and Indigenous Peoples
LGBTQ2+
Persons with Disability
Retirees
Women
Workers of Colour
Young Workers
Eight regions with one member from:
Region 1 – Thunder Bay
Region 2 – Northumberland
Region 3 – Georgian Bay
Region 4 – Greater Toronto Area
Region 5 – Hamilton/Halton
Region 6 – Norfolk/Niagara
Region 7 – London and Southwestern Ontario
Region 8 – Algonquin